Often times the most important part of every great hunt is the right preparation before you leave. From equipment and shooting practice, to scouting and tree stand placement we have you covered! Use this page to see how hunters like you set up their gear, scout like a pro and determine shot placement to ensure an ethical finish to your hunt.
ProStaff Pack – Keith Lovelace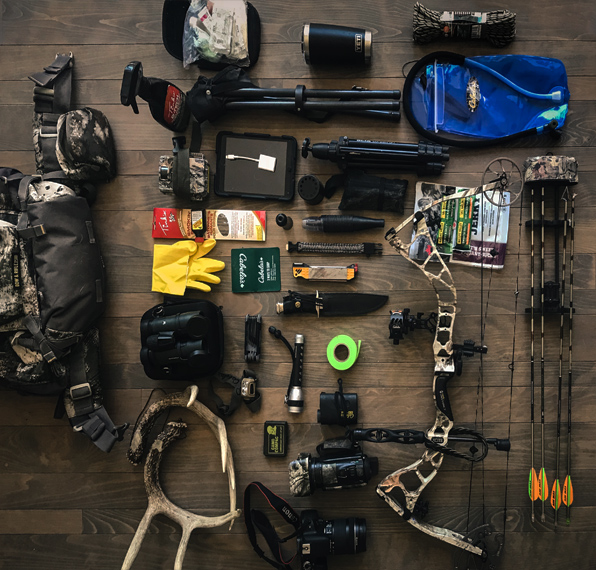 YETI® Rambler Tumbler
Bass Pro Shops® Multipurpose Camo Rope
Cabela's Intensity 1600 Laser Rangefinder
Cabela's Instinct™ Xcite Compound Bow
Coghlan's Paracord Bracelet
Cabela's LED QUL Headlamp
Cabela's Bow and Rifle Pack
Tink's Smokin' Sticks Cow Estrous Elk Lure
Hydrapak™ Shape-Shift Reservoir – 2 Litre
Buck Woodsman Model 102 Knife
Vortex® Diamondback® Binoculars
Cabela's E-VAC 2CR Tactical Flashlight
ProStaff Pack – Paige Galea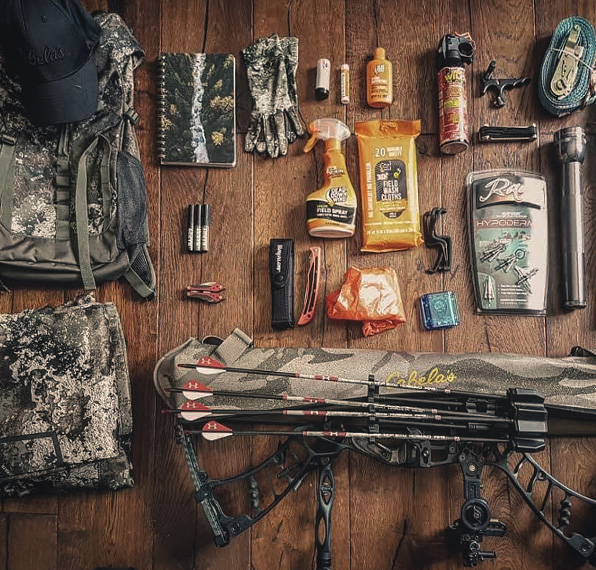 Cabela's Instinct™ Xcite Compound Bow
Cabela's Carbon Hunter with 2" XPV Vanes
Cabela's Multitool
Dead Down Wind™ Evolve 3D+ Field Spray
Dead Down Wind Field Washcloths
Cabela's Men's Performance Cap
Cabela's Bow and Rifle Pack
Cabela's Men's Lightweight WINDSTOPPER® Gloves
Bass Pro Shops® 40-Lumen LED Pen Lights Two-Pack
SHE® Outdoor Women's Performance Rain Jacket
Scouting
With any form of hunting, scouting is absolutely paramount. Most successful hunters will spend as much or more time scouting as they do hunting. It doesn't matter how well you're prepared if there's no game in the area.

– Keith Lovelace, Cabela's Canada ProStaff
SHOT PLACEMENT
Broadside – Lungs, liver, heart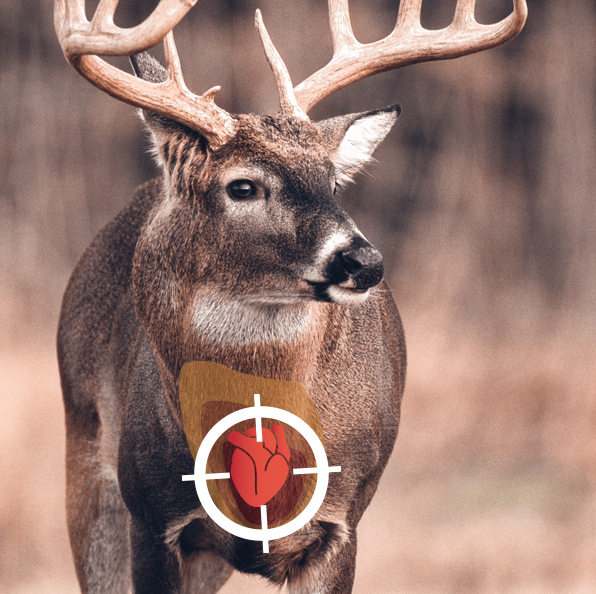 Front – heart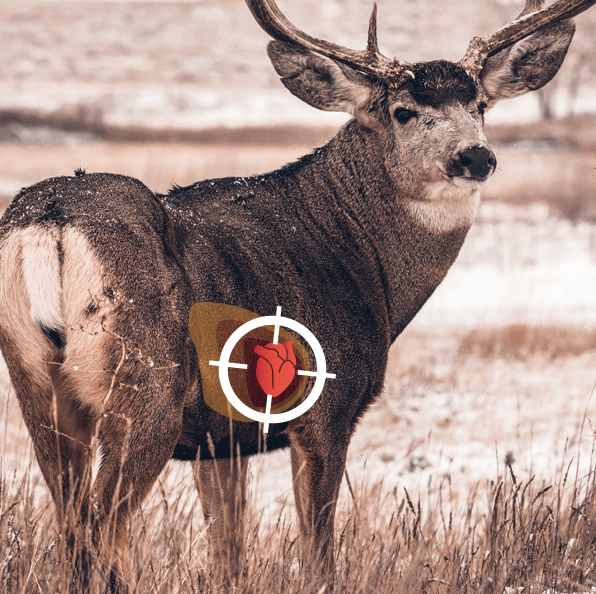 Quartering – heart
In-The-Field Prep
Planning Your Hunt
If you're not hunting a familiar area, take some time to visit your local land maps store and get a print out of your desired public land spot. Make notes of trails, scat, tracks and rub marks. Set up trailcams ahead of time to confirm theres action and to map patterns where you plan to hunt.
Setting-Up Tree stands
Don't hang the stand too high. Tree stands are meant to get you off the ground and out of sight. Going too high ads additional risk to your hunt. Keep your shot placement and stability in tact by going up about 15–20 ft.
Shooting Lanes
In thick forest, you'll want to make sure your site and shooting lines to the trail you are aiming at are clear. Don't go too crazy that the deer notice your handy work and spook before you get your chance.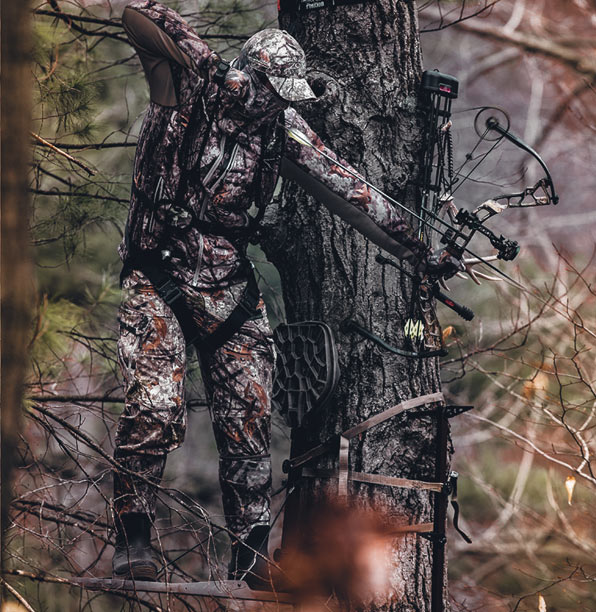 Baiting Regulations
When it comes to setting up feed/bait and mineral sites, each provinces regulations will be different. Make sure to check your local hunting guide for official details.


ELK
A full-grown bull elk can stand as tall as 9 feet, with antlers reaching 4 feet above their head. Don't underestimate the sheer size and weight of these beautiful giants. Hunting elk can be a challenging, but intensely rewarding experience, providing you have the gear and know-how to get the job done.
moose
A bull moose in full spread is one of the most imposing animals in the Canadian wilderness. Taller than a saddle horse, large bulls can weigh over 1300 pounds. Hunters who are brave enough to take down a full-grown moose are often rewarded with a large and impressive trophy.
Sheep Hunt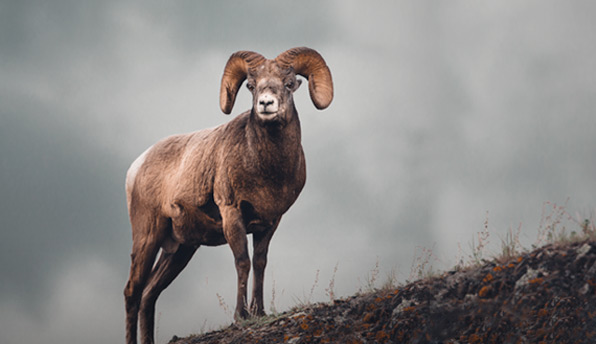 Horned Sheep
One of the most difficult animals to hunt, big-horned sheep are among the most prestigious targets in the Canadian Rockies. In hostile, high-elevation environments, where the weather can change on a dime, physical fitness and preparation are a must when hunting these regal beasts.
Bears
An apex predator of the Canadian wild, black bears can weigh up to 600 pounds and boast impressive speed, agility and sense of smell. Take extra care when hunting these majestic, yet potentially dangerous creatures. Those who succeed are rewarded with a beautiful fur pelt, and a good story or two.