Moose Hunt
Perhaps Canada's most iconic animal, the moose epitomizes the Canadian wilderness. Big, strong and well suited to handle many different types of terrain, the Moose is perhaps one of the most prized animals Canadian Hunters can pursue. The largest member of the deer family, there are numerous sub- species ranging from the Shiras Moose in the south to the giant Alaskan/Yukon moose in the far north. Successful hunters are rewarded with a quality and quantity of meat to fill their freezers for the year.
Defining Characteristics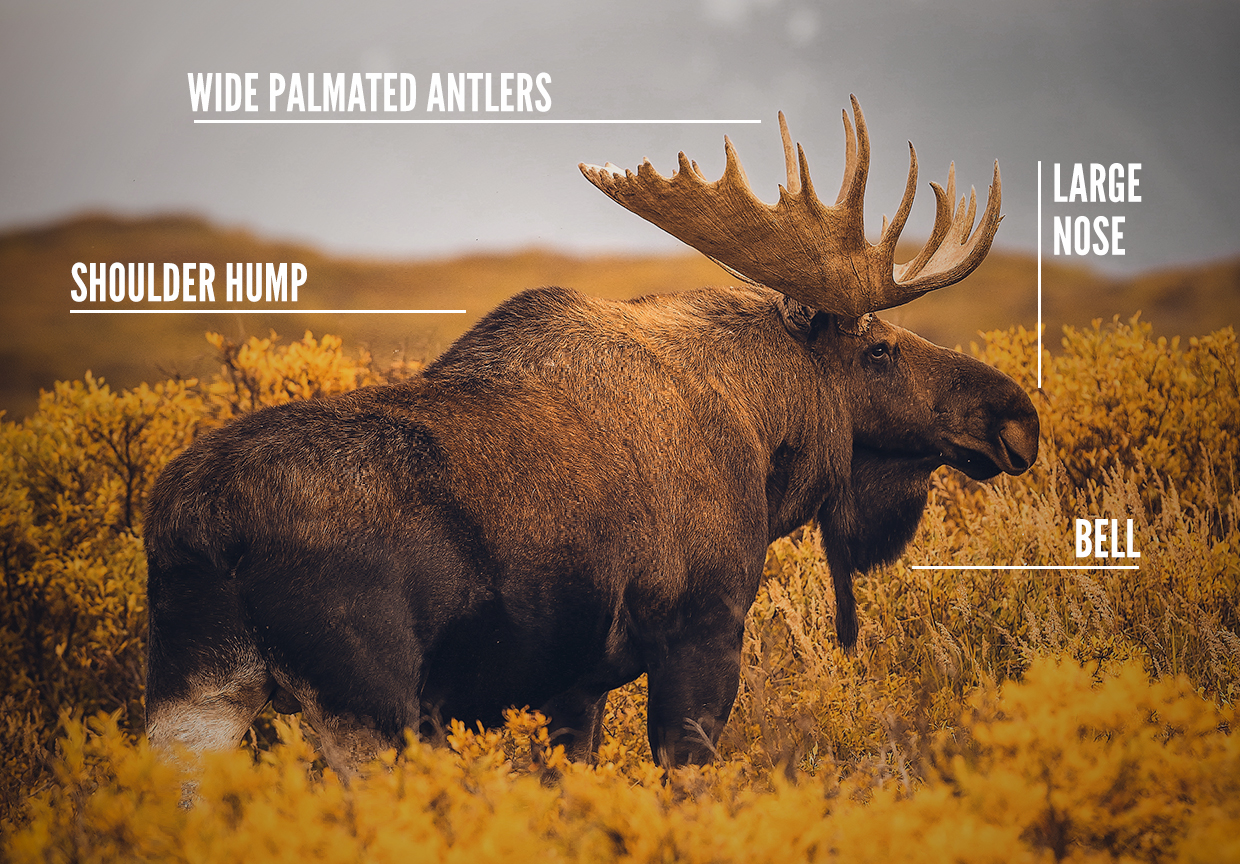 Rut Season: Last week of September & first week of October
Before The Hunt
Scout potential areas well in advance of season. Moose sign is easy to spot
Study topographic maps or Google Earth looking for travel corridors on ridges between waterways
For more remote areas, biologists, conservation officers, forestry workers and bush pilots are great sources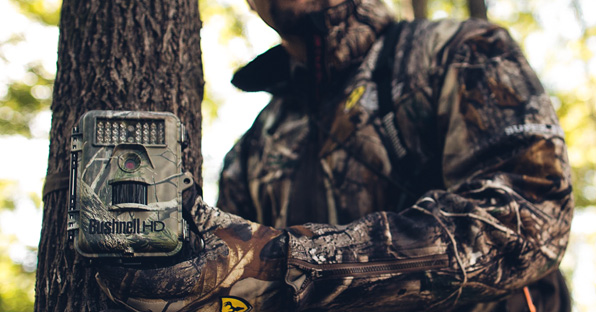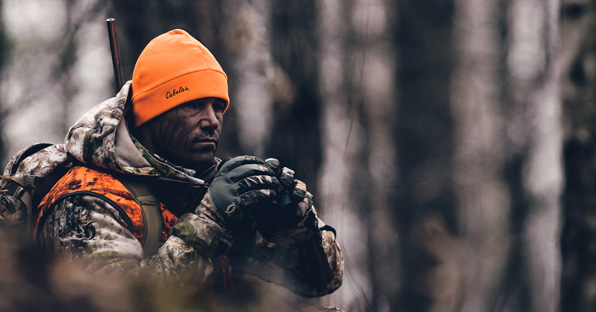 During The Hunt
Be prepared to cover a lot of ground looking for fresh sign and tracks
Moose are easy to spot in open terrain areas, glass more and walk less
Bring the animal to you with calling during the rut period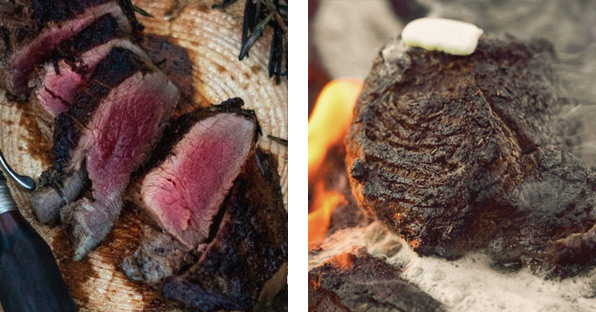 After The Hunt
Moose meat can be very lean, care must be taken not to dry the meat out when cooking by conventional means
Consult Wild Game cook books on cooking methods to keep the meat moist
Share your bounty with others, there's usually more than enough to go around
SHOT PLACEMENT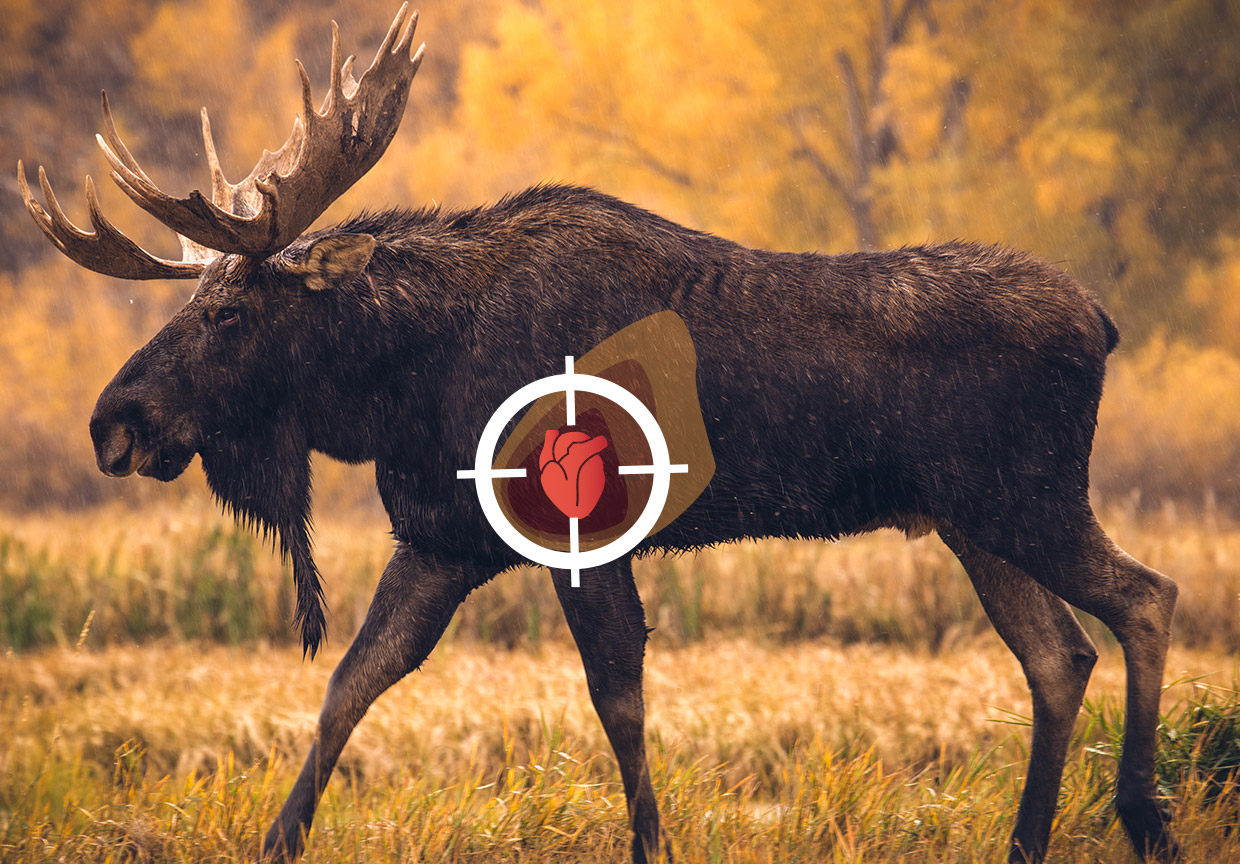 Broadside – Lungs, liver, heart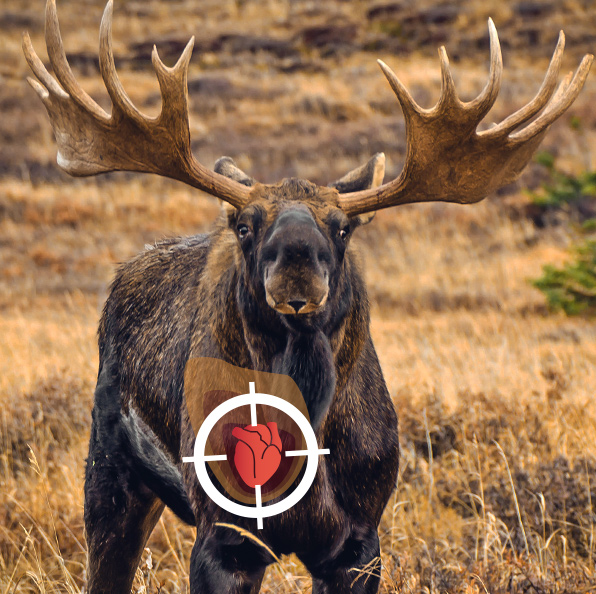 Front – heart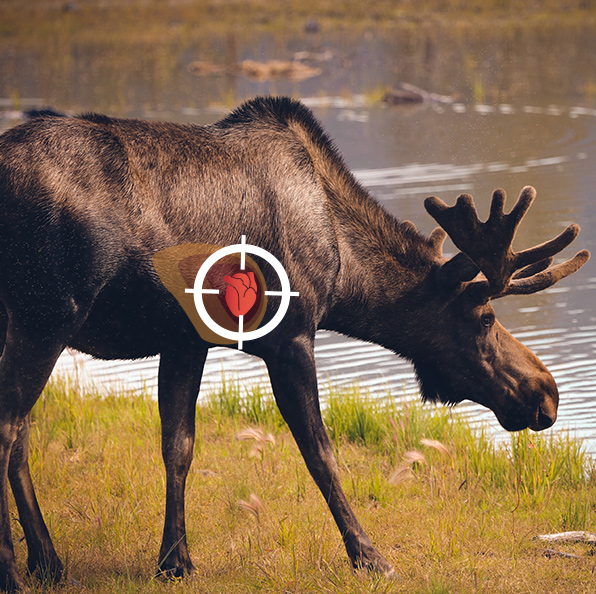 Quartering – heart
SEASONS BY PROVINCE
| Prov. | Dates | Cost | Guide Ref. |
| --- | --- | --- | --- |
| B.C. | Aug. 15–Nov. 15 | $25.00 | pg. 27–87 |
| AB | Sept. 1–Nov. 30 | $44.95 | pg. 45–54 |
| SK | Sept. 1–Nov. 30 | $40.00 | pg. 29 |
| MB | Aug. 26–Dec. 22 | $57.25 | pg. 37 |
| ON | Sept. 14–Dec. 15 | $50.29 | pg. 54 |
| QC | Sept. 1–Dec. 1 | $75.12 | N/A |
| Prov. | Dates | Cost | Guide Ref. |
| --- | --- | --- | --- |
| NB | Sept. 24–Sept. 28 | $72.00 | pg. 17 |
| NFLD | Sept. 14–March 8 | $52.00 | N/A |
| NS | Sept. 30–Dec. 19 | $8.04 | pg. 12 |
| NWT | Sept. 1–Jan. 31 | $22.00 | pg. 27 |
| YK | Aug. 1–Oct. 31 | $10.00 | pg. 65–74 |
| NVT | July 1–June 30 | $20.00 | pg. 14 |
The information presented above is meant as a quick reference and does not represent all areas of residence, species and other regulatory requirements. Dates are subject to change based on management zone, animal class and hunter specifications. Please refer to the dates posted on each province's/territory's website, available by clicking on the province/territory name and referring to the 'Guide ref.' page numbers column.
Deer
Of the five deer species found in Canada, White-Tail Deer are the most sought after by hunters. They are typically found in fields and meadows, relying on clusters of brush and trees for shade. During the winter, they typically prefer forested conditions to take shelter from the cold Canadian climate.
ELK
A full-grown bull elk can stand as tall as 9 feet, with antlers reaching 4 feet above their head. Don't underestimate the sheer size and weight of these beautiful giants. Hunting elk can be a challenging, but intensely rewarding experience, providing you have the gear and know-how to get the job done.
Sheep Hunt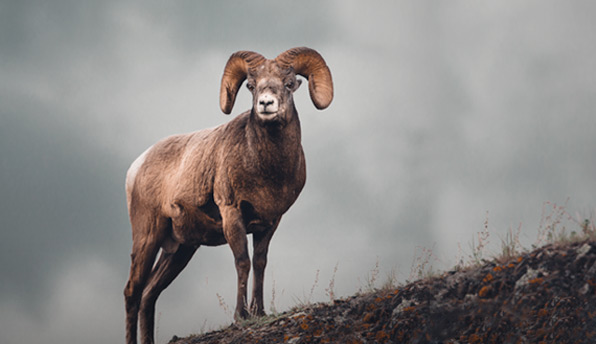 Horned Sheep
One of the most difficult animals to hunt, big-horned sheep are among the most prestigious targets in the Canadian Rockies. In hostile, high-elevation environments, where the weather can change on a dime, physical fitness and preparation are a must when hunting these regal beasts.
Bears
An apex predator of the Canadian wild, black bears can weigh up to 600 pounds and boast impressive speed, agility and sense of smell. Take extra care when hunting these majestic, yet potentially dangerous creatures. Those who succeed are rewarded with a beautiful fur pelt, and a good story or two.