WoodWick® Trilogy Medium 10 oz. Candles
Article # C: 127542010 B: 4249602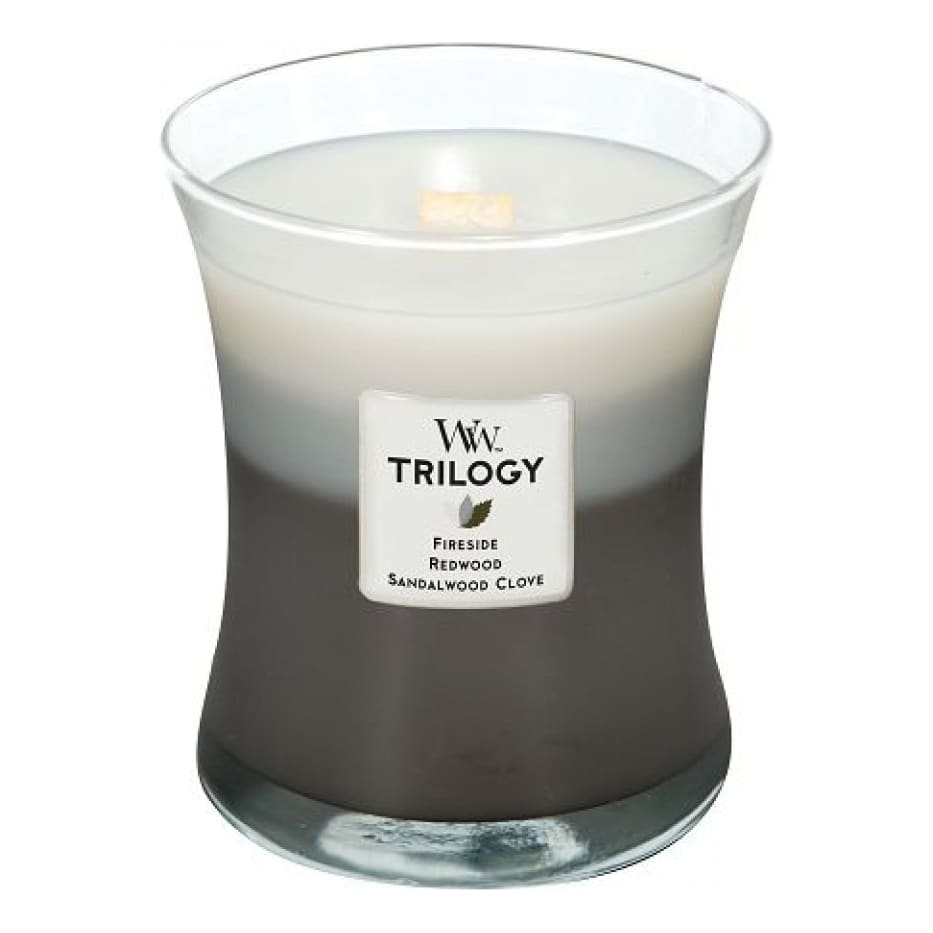 Bring three pleasant aromas into your home with one WoodWick® Trilogy Medium 10 oz. Candles. They feature a natural wooden wick to create the soothing sound of crackling campfire.

Cafe Sweets: Vanilla Bean: Warm, natural scent of pure vanilla bean; Caramel: A delicious treat of creamy caramel and brown sugar with a hint of rich vanilla cream; Biscotti: The heavenly aroma of sweet toasted cookie dough with rich vanilla icing

Warm Woods: Fireside: Balances the natural scents of amber, vetiver and musk to perfectly capture the essence of a cozy evening by a warm fire; Redwood: A complex scent combining rich redwood with sandalwood and soft amber; Sandalwood Clove: Fragrant sandalwood perfectly balanced with notes of sweet clove spice

Nautical Escape: Tropical Oasis: The scents of tropical fruits and cool coconut with hints of endless white beaches and stunning turquoise waters; Sand & Driftwood: A perfect balance of sun-washed wood, sea grass, and soft white sand; At the Beach: Escape to the beach with the summery scents of tropical citrus, creamy coconut and cool sea breezes

Cozy Cabin: Evening Bonfire: Inviting scent of warm woods brings memories of cool nights around a smoldering fire; Oudwood: Alluring amber and aromatic oudwood fused with creamy vanilla and undertones of smoked incense; Wood Smoke: The genuine scents of cedar and glowing embers create the nostalgic comfort of a crackling fire

Icy Woodland: Magnolia Birch: A smooth yet bracing fragrance blend of magnolia leaf, white birch, and winter moss; Juniper & Spruce: Juniper berry, blue spruce, and frosted sage perfectly balanced with soft notes of tuberose and cedar; Lavender & Cedar: Pink pepper and aromatic lavender are layered with sage flower, patchouli, and blonde woods.

Pumpkin Gourmand: Pumpkin Praline: An indulgent fragrance of pumpkin sweetened with maple and spiced with ginger and nutmeg; Pumpkin Butter: A decidedly autumn scent with a nostalgic blend of fresh pumpkin, warm spices, and vanilla; White Honey: Sweet candied orange blossom with cascading vanilla orchid and roasted toffee.

Oceanic: WoodWick's fragrance curators have layered the scents of Sagewood & Seagrass, Seaside Neroli, and Vanilla & Sea Salt for a fresh, coastal feel. Fragrance layers, top to bottom: Sagewood & Seagrass: An airy yet complex combination of crisp citrus, ocean minerals, and white sage notes; Seaside Neroli: Cool, salty seaside air perfumed by neroli blossoms and mandarin; Vanilla & Sea Salt: Soft vanilla blossoms swirled with notes of sea salt and jasmine.