Consumer Product Notices
All winchester
® xpr rifles

The recall involves all Winchester XPR Rifles. A manipulation of the safety switch may cause movement in the trigger system that could result in unintended firing of certain XPR rifles. In order to exercise an abundance of caution on behalf of all XPR owners, Winchester will replace certain trigger group parts at no charge. This will require that all XPR rifles are sent to Winchester's service facilities for retrofit. We respectfully require all owners to return their rifles for the retrofit. Read more
---
Ravin® Crossbows is recalling white Ravin® clip-on nocks sold for use with Ravin® Crossbows.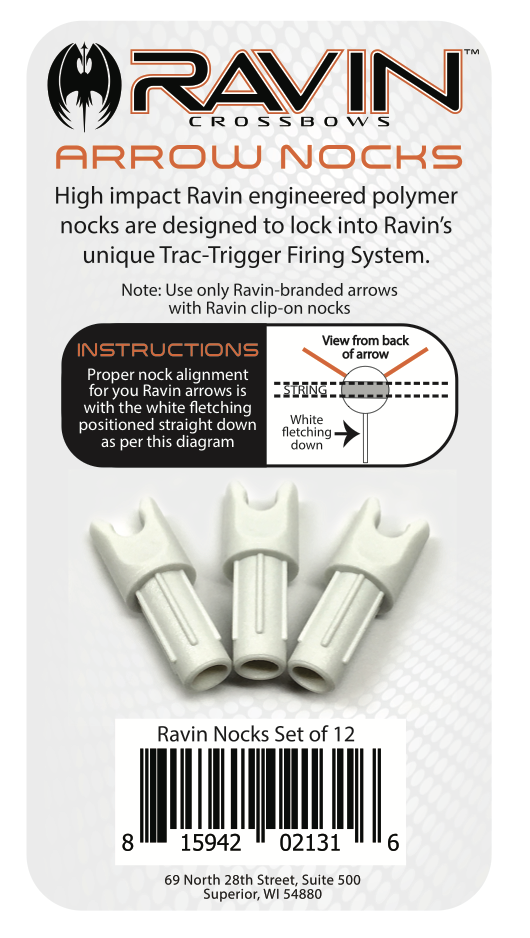 The Recall involves all white plastic molded clip-on nocks used in arrows for Ravin Crossbows. This recall only applies to white Ravin® clip-on nocks and not to any Ravin® Crossbows or Ravin® arrows. Consumers should stop using the white Ravin nocks immediately and contact Ravin Crossbows, LLC for replacements. Read more - PDF
---
Maverick Hunter™ Over/Under - Product warning and recall
Maverick Arms has discovered that a small number of Maverick Hunter™ Over/Under 12-gauge shotguns (SKU 75445) have been marked incorrectly. The chamber marking indicates that these shotguns are chambered for 3 1/2" shells, however, the chambers are manufactured for 2 3/4" and 3" shells. Read more - PDF
---
2017 Thrive crossbows - Product recall
Precision Shooting Equipment, Inc. announced Aug 28th, 2017 that it will conduct a product recall on its 2017 Fang XT, 2017 Fang LT and 2017 Thrive crossbows. Hazard: The recall is being initiated because the trigger mechanisms on these crossbows have been found to be out-of-specification, potentially leading to a premature firing or accidental discharge. Read more - PDF
---
Sig Sauer P320 - Voluntary recall
Read more on Sig Sauer website.
---
Ruger Precision Rifles - Product Safety Bulletin
Ruger has issued a Product Safety Bulletin for certain Ruger Precision Rifles due to the potential for interference between the aluminum bolt shroud and the cocking piece. Although only a small percentage of rifles appear to be affected and we are not aware of any injuries, Ruger is firmly committed to safety and is offering replacement aluminum bolt shrouds for affected rifles in order to eliminate the possibility of such interference. Read more - PDF
---
Consumer Product Safety: Cabela's Canada is dedicated to providing safe products of exceptional quality to its customers. We encourage you to visit www.healthycanadians.gc.ca/recall-alert-rappel-avis/index-eng.php for more information on the latest advisories, warnings, recalls and safety alerts.

Recalls: The following products have been sold at Cabela's Canada retail stores, through catalogues and at cabelas.ca and have been recalled by the respective vendor, Health Canada and/or other federal agencies. For more information about a specific recall and the recommended course of action, please click the accompanying link.
Cabela's Retail Canada Announces Recall of Cabela's Metallic Cartridge Polish and Cabela's Corn Cob Media and Metallic Cartridge Polish Combo
Description: Clear 8 ounce bottle with white cap filled with light yellow liquid. "Cabela's Metallic Cartridge Polish" on label. The bottle also could have come in a kit that also contains a 6 pound bag of corn cob husks.
Hazard: Health Canada's inspection program has determined the recalled products do not have proper hazard labelling required by the Consumer Chemicals and Containers Regulations, 2001 under the Canada Consumer Product Safety Act (CCPSA).
The products do not have the symbols and warnings that are required to be placed on the containers of consumer chemical products. The lack of the required warnings could lead to improper use of the product and present a flammability hazard leading to serious injury or fire. As of April 25, 2017, the company has received no reports of incidents in Canada.
Remedy: Consumers should immediately stop using the recalled products and contact the manufacturer for a refund.
Call Berry's Manufacturing: 1-800-269-7373, Monday – Friday, 8:00am – 5:00pm Mountain Time
Email Berry's Manufacturing: sales@berrysmanufacturing.com
Masterbuilt Electrical Smokehouse Smokers
For more information visit the Health Canada website; http://healthycanadians.gc.ca/recall-alert-rappel-avis/hc-sc/2016/61014r-eng.php
Big Game International – Shoreline Marine Liquid Electrical Tape
For more information visit the Health Canada website; http://healthycanadians.gc.ca/recall-alert-rappel-avis/hc-sc/2016/61014r-eng.php