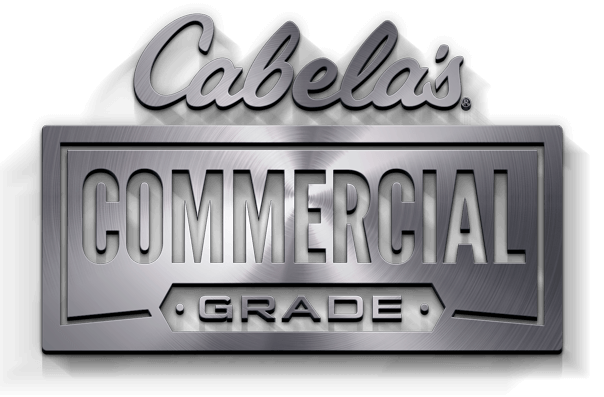 Engineered With Quality, Efficiency, And Precision In Mind
These appliances will transform your kitchen into a butcher's paradise and allow you to produce restaurant-quality meat without breaking a sweat.
Canrnivore MEAT GRINDERS
Your Countertop Butcher Shop For Any Job
Grind, stuff and package with one versatile tool

Make quick work of meat processing in your kitchen. Cabela's Carnivore Commercial-Grade grinders have taken home processing to the next level. Grind, stuff, package – do it all with a single tool. Five models grind 7 to 23 lbs. of meat per minute thanks to advancements that most butcher shops can't match. The Cool-Tek® Gel Ice Pak maximizes performance, enabling the cutting knife to rip through tough connective tissue. Grind all the meats you love with precision and ease, and take total control over what you feed your family.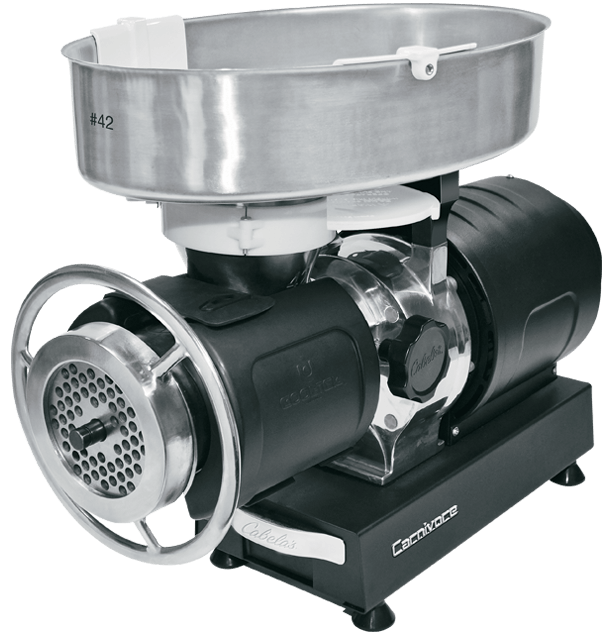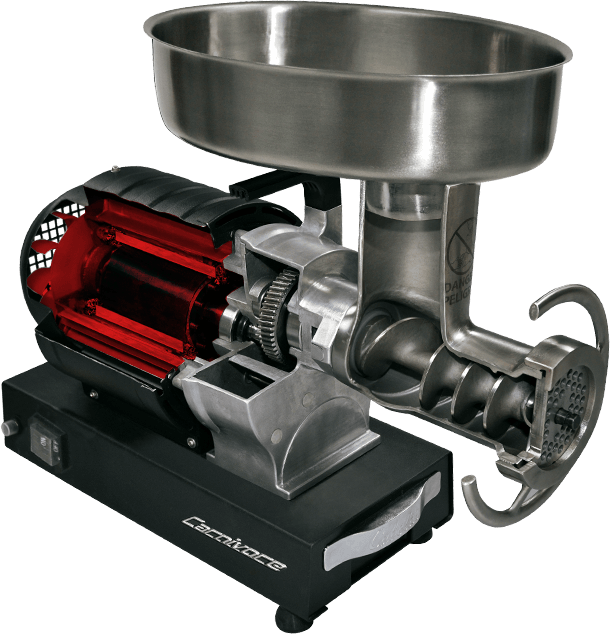 Whisper-Quiet Performance
You know our grinders are powerful when they're measured in horsepower. But no matter how powerful they are, no one wants their kitchen to sound like the Indy 500. That's where our new and improved grinders set themselves apart.

Each new grinder boasts a heavy-duty yet quiet induction motor that produces the power to grind tough, stringy meat into fine, tender hamburger - all without you having to invest in a good set of earplugs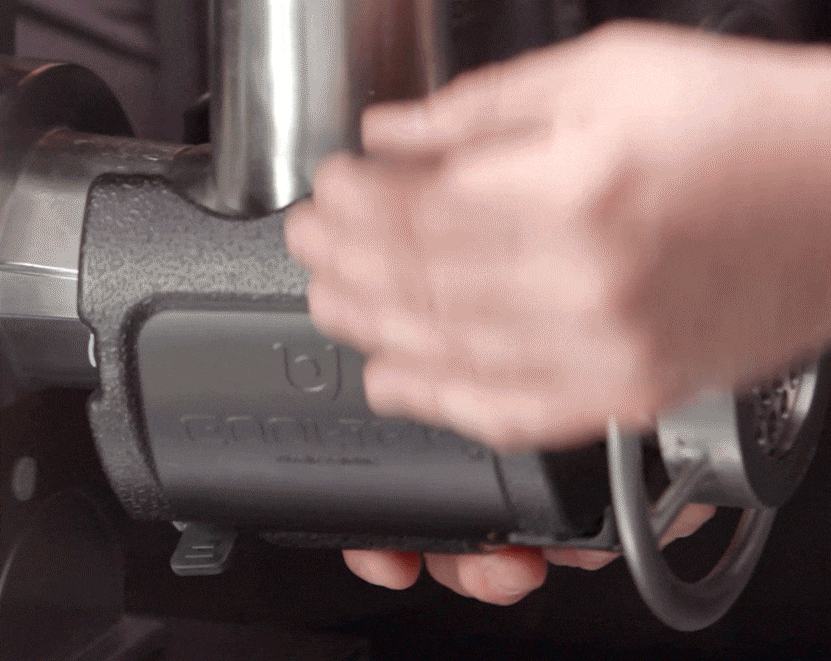 Cool-Tek
Despite their great power, our previous grinders ran too hot. As meat, fat and connective tissue heat up, they can bind the auger and plug the cutting knife, which forces you to disassemble the grinder to clear the clogs. This is where our new and improved grinders come in.

Each new grinder comes equipped with Cool-Tek Gel Ice Paks, which wrap around the grinder's head, to help keep the auger cold. When combined with a high-output air-cooled fan, unique air-cowl design and a ribbed motor cover to optimize airflow, you can be sure this grinder stays as cool as a cucumber without losing an ounce of power.
Time-tested Features
High Output Air-Cooled Fan
Unique air cowl design allows proper airflow to gear housing during operation
Ribbed motor cover optimizes airflow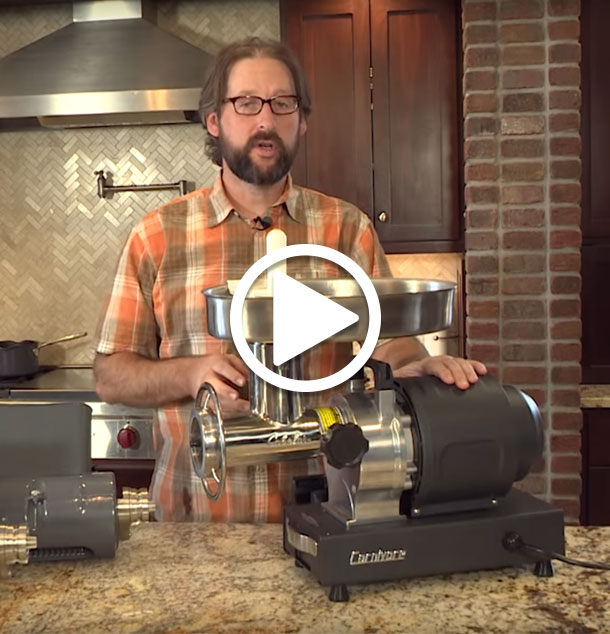 New
Cool-Tek Technology-Gel Ice Pak that attaches to the head that will keep meat cold to prevent clogging and binding
One way fit stainless steel two-sided cutting knife
Integrated Storage Drawer-Place to store grinder accessories while not in use
Stainless Steel grinder-head ring nut makes removing grinder plates easier
Auger pull tool for safe and easy auger removal
Stainless Steel grinder-head ring nut makes removing grinder plates easier
Carry handle
Extra-Large non-slip feet to keep you grinder in one place while grinding
MEAT Slicer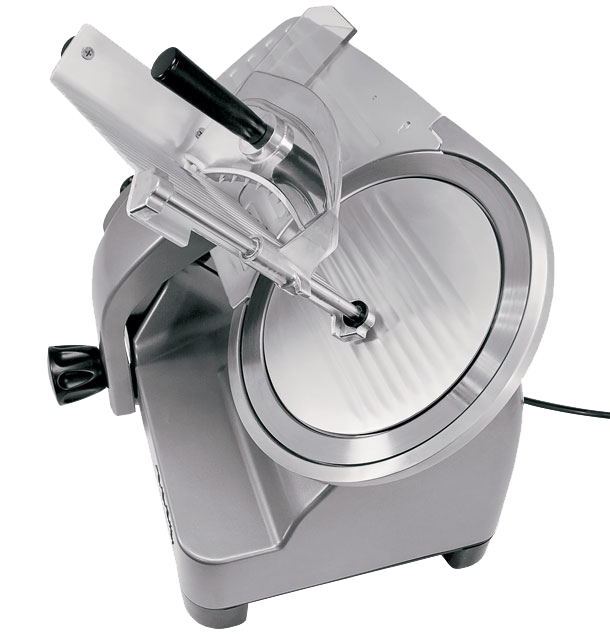 Homemade Deli-Style Meats Made Easy
Breeze through any cut with power and speed. Whether you have a ton of meats, cheeses or bread to slice, our Commercial-Grade Meat Slicer effortlessly cuts through them all. The adjustable, blistering-sharp blade delivers everything from paper-thin cuts to 1" thick slabs, so you can make deli meats for sandwiches or ham steaks for hearty dinners. Combine this with the powerful induction motor and large-capacity food carriage, and you've got the perfect slicer for professional-level results.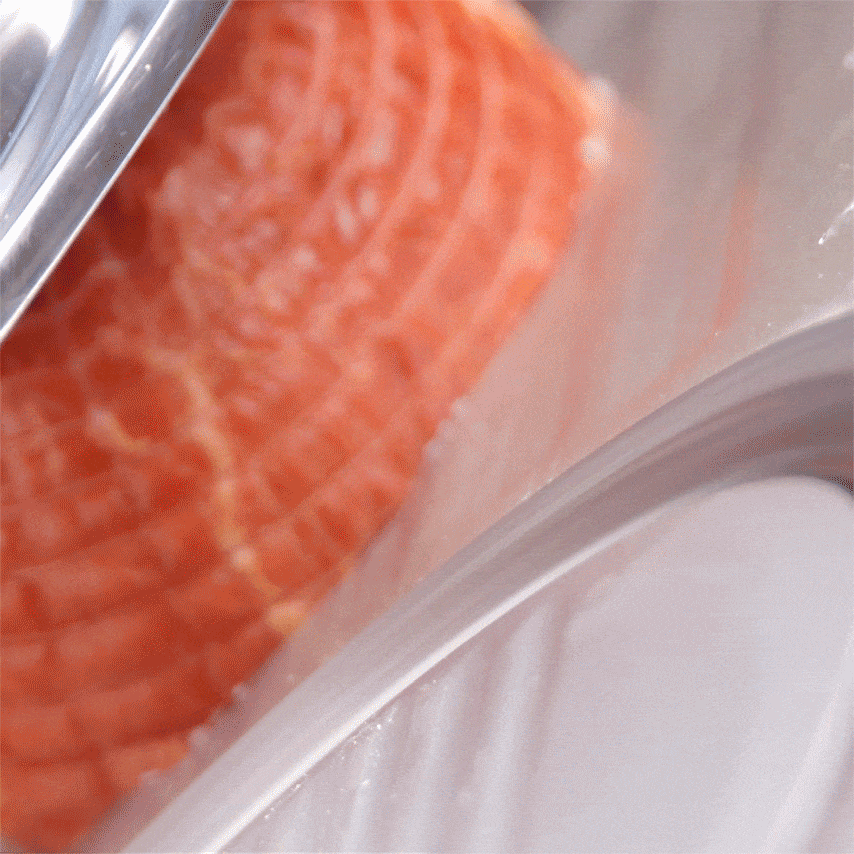 Features
Effortlessly cut deli-style meats, cheeses and vegetables
Razor-sharp blade cuts slices from ultrathin to 1" thick
Die-cast aluminum construction adds strength and durability
Commercial-grade 250-watt induction motor with dual handles
Large-capacity and removable food carriage slides easily
Vacuum Selaers
Professionally Preserved Flavour From Your Kitchen
Keep your harvest at its freshest for months to come. Filling your freezer with flavor just got a whole lot faster. Our Commercial-Grade Vacuum Sealers deliver continuous sealing with virtually no waiting periods between bags thanks to revolutionary Smart Heat Technology®. Choose between our 12" and 15" models to quickly preserve even the largest of harvests from your family's garden, the local hunting grounds or even the grocery store. The Intelligent Sealing Bar™ automatically monitors and adjusts the heat to give you a perfect seal every time, so you can feed your family with confidence.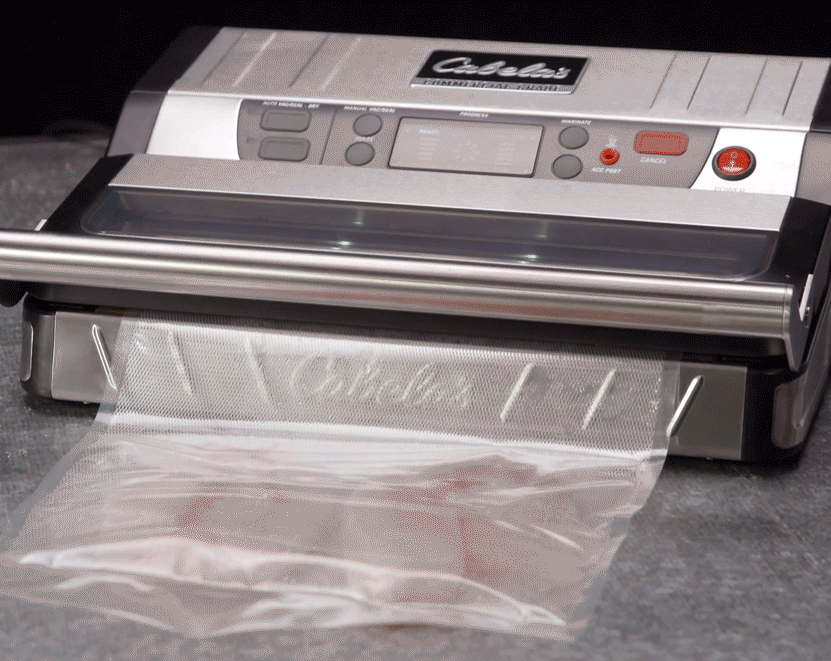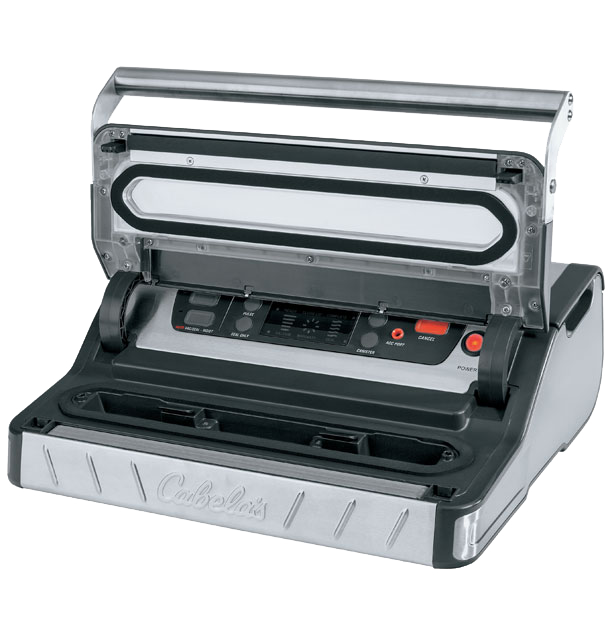 Features
Dual heat-strip sealing bar for an airtight seal
Intelligent Sealing Bar monitors and adjusts heat level
Smart Heat Technology for nonstop use with no waiting periods
26–28in. Hg of pressure keeps food fresh 5× longer
Crush-resistant, replaceable foam seal gaskets
Sausage Stuffers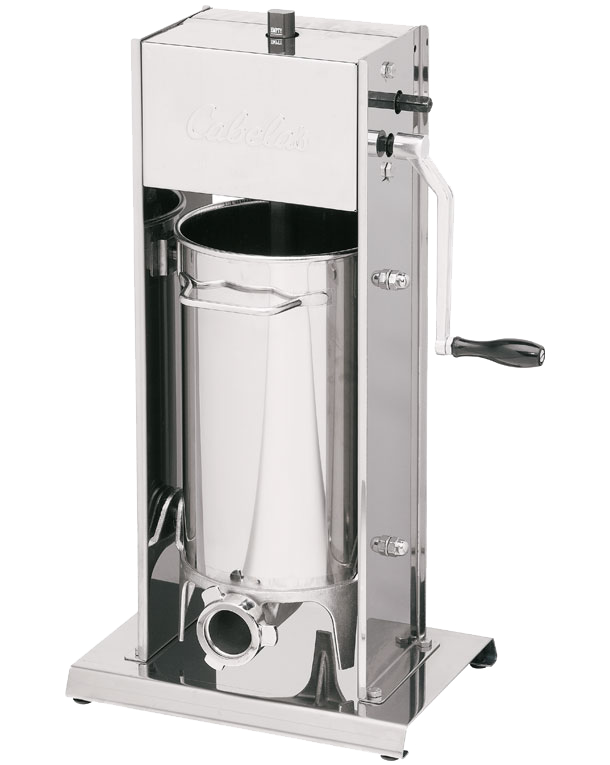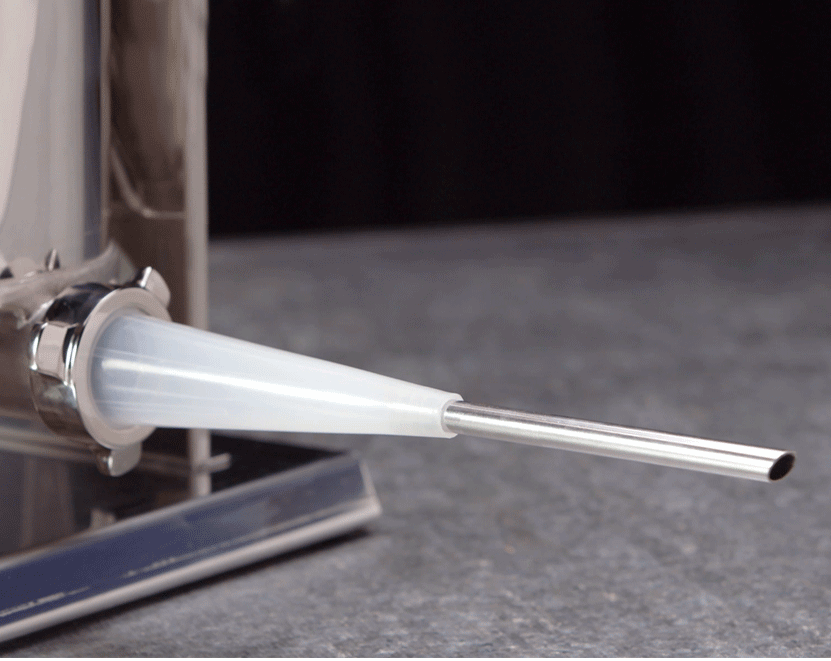 Premium Stuffing Power For Limitless Links
Make short work of big batches from home. Breeze through big batches of meat mixes quickly with our Commercial-Grade Stuffers. Dual-speed steel gear delivers precise control, so you can stuff everything from snack sticks to summer sausages with ease. Each of the three models is built to perform with plenty of stuffing power, but when you're short on time, you can also attach an optional clutch-operated electric motor to make even shorter work of big batches. Give your family the meats they love while knowing exactly where they came from.
Features
Commercial-grade stuffing power
Dual-speed gears deliver precise control
Plunger shaft fill indicators
Includes four stuffing tubes of various sizes
80-Litre Dehydrator
Create perfect, delicious snacks from fruits, vegetables and game meats right in the comfort of your own home with our 80-litre Commercial-Grade Food Dehydrator. Penta 360-Degree Air Flo technology uses five air tubes to create a cyclonic pattern, which blankets the entire cabinet with an even flow of air. Plus, Smart Heat technology automatically monitors intake air and internal cabinet temperature and then adjusts the fan speed to achieve optimal dehydrating perfection. It also features a powerful 1,400-watt heater and four-colour display that shows your set and actual time and temperature.

Features
Penta 360-Degree Air flo for even air circulation
Smart Heat monitors air intake and internal temperature
Powerful 1,400-watt heater
Easy-to-read, four-colour display with one-button control
24 high-intensity LEDs allow you to see inside
Includes 12 removable racks